Home perfume THOR
in stock
We devote this handcrafted home perfume to the Norse god of youth Thor. We believe that the magical fragrance of this home perfume and a simple meditation/affirmation ritual (its description is included with the home perfume) and Thor's assistance might help to:
Achieve your goals in a determined and purposeful manner;
Achieve abundance in all the areas and boost self-confidence;
Achieve luck in every step;
Complete the ongoing work successfully.
In Norse mythology Thor was the god of thunder, storms and fertility. Thor might help you in any battle, both in literal and metaphoric sense.
The unique formula of this home perfume was created in accordance with all the major perfumery canons. At first the fragrance pyramid will reveal head notes of hibiscus and mandarin, rich and intense notes of black pepper corns, juniper berries, saffron followed by luxurious notes of agarwood, amber, cedar, labdanum, oriental spices, patchouli, vanilla and white musk and our little formula secrets. The aroma at home will be changing over time.  By just one additional fresh perfume you will be able to relive the aroma journey from the first to the very last scent.
Add to Wishlist
Main fragrance notes



Description
The magic fragrance recipe of this home perfume is based on old customs, traditions and the belief that every plant or aroma has its own magical purpose. It is like a witch recipe, where each plant and its aroma have a very important aromatherapic and magic function. The main notes supplement each other with aromatherapic properties and create a high-end fragrance pyramid where each scent has its place in harmony with other aromas.
Hibiscus: the aroma of hibiscus has been used in magic rituals mostly for love spells and for creating recipes that awaken desire. However, not everyone knows that hibiscus can also help reveal the gift of clairvoyance and premonitory dreams, as well as open paths towards knowing one's inner-self. The fragrance of hibiscus stimulates the processes of the subconscious.
Mandarin: its essential oil helps to open the heart, frees from sadness, nervousness and anxiety. It has a relaxing effect on some people, while in others it works as an energizer and wards off melancholy. Mandarin essential oil boosts optimism, natural charm and self-confidence, restores aura after serious illness or emotional stress. Mandarin essential oil is recommended in need of spiritual warmth. In magic mandarin is particularly related to the ability to attract love.
Black  peppercorns: their aroma helps to reduce pain, activates blood circulation, has a warming quality and a positive effect on aching muscles and joints, stimulates and energizes in cases of weariness, fatigue, and emotional frigidity, stimulates appetite, relaxes, helps to reduce fever and positively affects digestion. Aromas of peppers, just like all tangy spices, cleanse the energy field, helps to get rid of negative energy and protect against harmful surrounding effects.
Juniper berries: since ancient times juniper has been used to protect from and ward off evil spirits. The energy of this scent helps to develop the personality's consistence and perseverance, the ability to distinguish lies and fight them easily. It protects the aura form aggression, helps to quickly find a proper way from any difficult situation. It also helps to avoid self-projected destructive irritation, gain the deserved authority, and develops such qualities as nobleness, grace, etc.
Saffron: an excellent tonic for both mind and body, may be used for reducing pain, treating infections, and stimulating heart rate. In Ireland saffron is still used on baby cots, so that the newborn would grow healthy and strong. In Italy saffron is thrown on the bride and the groom, as it is considered an aphrodisiac that boosts fertility. Arabs, Berbers and the Persians give saffron as a wedding gift for ensuring fertility. The Romans valued the aroma of saffron and considered it to be "gently soothing", often compared by poets with the soft colors of sunrise or sunset.
Agarwood: used in incense and perfume since ancient times, mentioned in numerous ancient written sources – Sanskrit Vedas, the Old Testament, and Islamic scriptures. Aquilaria trees are also called god-trees. Agarwood was considered to be so powerful that it could cleanse the soul and banish evil spirits. Traditional Chinese medicine views agarwood as a substance for releasing spasms and also as having warming, balancing, transforming and mind-clearing properties that help to achieve goals.
Ambergris: solid, flammable, waxy substance, produced in the digestive system of sperm whales and often called "floating gold". Usually it is found floating in the water or washed on shore in tropical countries, and is highly valued by the perfume industry where it is used for producing expensive perfume. This waxy odorous substance is lighter than water and can float in the sea for years, where under the influence of salty water and sun it becomes hard. When kept in a hermetic container, ambergris gives off a strong scent of musk, which is highly valued by perfumers all around the world and which has been used as an aphrodisiac since ancient times. It is one of the most-highly prized ingredients of perfume. The smell of ambergris is characterized by unique invigorating evening musk aroma with oriental notes. Ambergris has been long considered the symbol of luxury.
Cedar: its fragrance has a soothing, invigorating and rejuvenating effect, gives a sense of comfort, therefore it is recommended for sufferers of irrational fears, aggression, hysteria, anger or other physiologically inconsistent phenomena, as well as insomnia. It symbolizes abundance and prosperity. Cedar boosts leadership, helps to have faith in oneself, one's strengths and abilities.
Labdanum:  it is used for magical or spiritual practices involving protection, money, and respect. Labdanum has long been valued for its musky, sensual scent. In ancient times, labdanum was collected by combing the beards and thighs of goats and sheep that grazed in labdanum bushes, and many of the false beards worn by the Egyptian pharaohs in ancient times were made precisely from the hair of goats that smelled of the magical and royal aroma of labdanum. Some Bible scholars believe that mysterious labdanum was one of the most important components of sacred incense.
Oriental spices: the scent of oriental spices mixture will warm you up and spread the feeling of harmony, safety and tranquility. The mixture of various herbs and spices contains aromas of pepper, coriander, fennel, anise, and saffron. Like different tones that make up a chord, these scents will acquire new magical and aromatherapy properties when mixed up, but at the same time they will retain their primal nature. The concoction strengthens energy fields, harmonizes and calms.
Patchouli: since ancient times this oil has been considered a source of sensuality that arouses joy and openness to eroticism. Originating in India, strong, sharp and slightly bitter aroma of this exotic oil awakens passion and lasts for incredibly long time. Patchouli helps to survive and reduce grief, nourishes, invigorates, induces feelings of power, determination and self-confidence. Patchouli essential oil intensifies sensuality, helps to heal from frigidity and impotence. It also creates an atmosphere of peacefulness, tranquility and love, helps to stimulate potency and erogenous zones by enriching the partners' erotic contact with new colors. Since ancient times patchouli has been believed to attract wealth.
Vanilla: the homeland of vanilla is Mexico, Panama, and Antilles. The Aztecs highly valued vanilla as a spice. According to numerous scientific research, vanilla's fragrance increases sexual attraction. In ancient times healers used vanilla's fragrance for treating mental illnesses and nervous breakdowns. Vanilla's aroma is believed to induce the feeling of safety at the subconscious level and to relieve from anxiety and fears. This fragrance soothes, helps to reduce anger and other negative emotions. If you are willing to talk to someone sincerely, want a person to open up to you and trust you, scenting the room with vanilla will help.
White musk: musk is a classical aromatic substance of animal origin, used in perfume-making and extracted from male glands of certain animals (most often musk deers). Since in nature animals use musk as a pheromone to attract the attention of the opposite sex, this aromatic substance has a similar effect on humans as well. White musk is a synthetic substance used in perfumery as an alternative to the red musk of animal origin in order to preserve nature and animal population. The aroma of white musk brings in vitality and energy. It is believed to be a potent aphrodisiac that stimulates senses, arouses and opens the most secret desires and the depths of soul.
Together with this handcrafted home perfume you will get:
A detailed description of the home perfume purpose, a description of the aromatherapic effect of different scents. A simple magical meditation/affirmation ritual and tips for home perfume use so that may help you to achieve your goals in a determined and purposeful manner. This home perfume might also help you to achieve luck in every step and the desired result, as well as to successfully complete ongoing projects.
Additional information

| | |
| --- | --- |
| Weight | 0,5 kg |
| Dimensions | 7 × 7 × 31 cm |
| Volume | |
| | |
| --- | --- |
| Height | Home perfume bottle height - 11.5 cm (100 ml) or 13 cm (180 ml). Along with the home fragrance you will get rattan sticks with a length of 25 cm, but you can easily cut the sticks with scissors to the desired length / height to create your desired flower composition. |
| | |
| --- | --- |
| Magic recipe | We use essential oils, natural resins and fragrance oils to create a home perfume that we mix with a special diffuse base. We use only food grade alcohol to create a home perfume, so the fragrance is slowly released, and you can enjoy the aroma much longer with no specific alcohol smell. The fragrance will be not overwhelm by alcohol. There are up to 30% of perfume essences in the home perfume mix, so we proudly call it home perfume. Each recipe will give you up to 13 fragrance notes. |
| | |
| --- | --- |
| Rattan sticks | Along with the home perfume, you will find rattan sticks with sola wood flowers in the box of home perfume. The perfume will go up the sticks as in the stems of flowers. These sola wood flowers will increase the surface that will spread the home perfume aroma at your home. We do not use any synthetic fiber sticks that are unfriendly to our planet. Rattan is a naturally renewable palm that grows in the tropical regions of Africa, Asia and Australasia, and is used for furniture, handicrafts, and building material among others. |
| | |
| --- | --- |
| Home perfume evaporates | The home perfume will evaporate for approximately 3-4 months (180 ml) or 2-3 months (100 ml) . The spreading time of a home perfume can vary slightly, as it directly depends on room temperature, humidity, and other environmental changes. To feel the fresh fragrance again and again, be sure to flip the sticks regularly. |
| | |
| --- | --- |
| Warning | DANGER. Highly flammable liquid and vapour. Causes serious eye irritation. May cause an allergic skin reaction. Toxic to aquatic life with long lasting effects. Keep out of reach of children. Keep away from open flames and other ignition sources. IF IN EYES: Rinse cautiously with water for several minutes. Remove contact lenses, if present and easy to do. Continue rinsing. If eye irritation persists: Get medical attention. IF ON SKIN: Wash with plenty of water. Avoid release to the environment. Dispose of the container in accordance with national regulations. Stains may remain on surfaces or fabrics. |
| | |
| --- | --- |
| Ingredients | 3-Methoxy-3-Methyl-1-Butanol, Alcohol, Parfum, Cistus ladaniferus (Labdanum) oil, Boisvelone, Longifolène, Citrus nobilis (Mandarin) oil, beta-Caryophyllene, Terpinolene, Linalool, Citrus limonum (Lemon) oil, Acetyl cedrene, Amyris Balsamifera bark (Sandalwood) oil, Citrus Sinensis peel (Sweet Orange) oil, Coumarin. |
More magic

The art of using

How to burn the wooden wick

It is important to trim a wooden wick
1. Light the candle with a match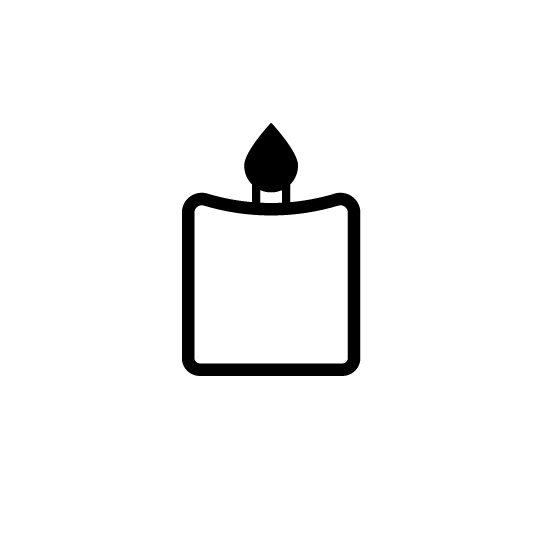 2. Wooden wick crackles as it burns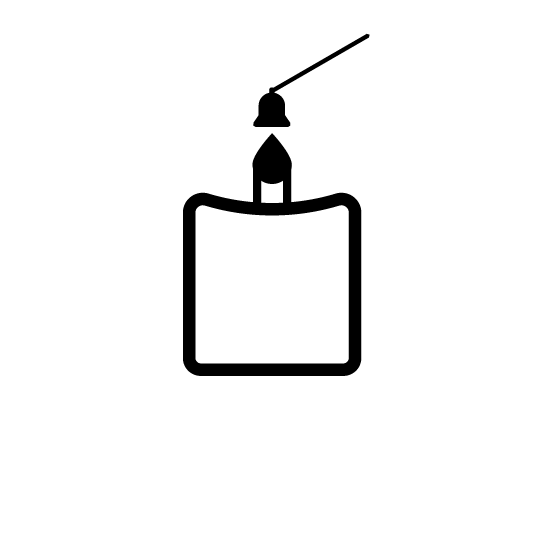 3. Extinguish the candle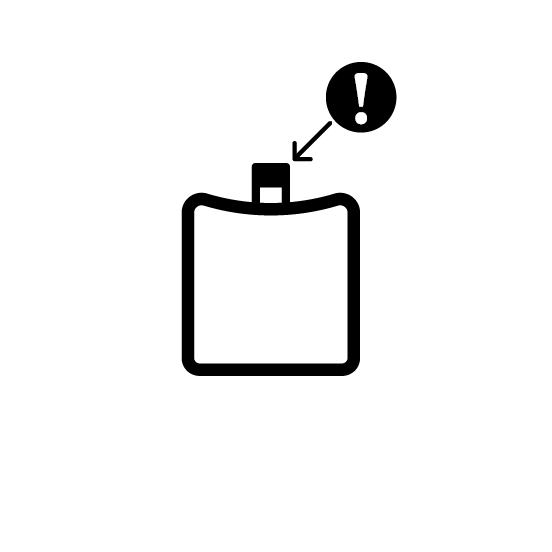 4. The ash can be easily broken off and all the debris should be removed from the jar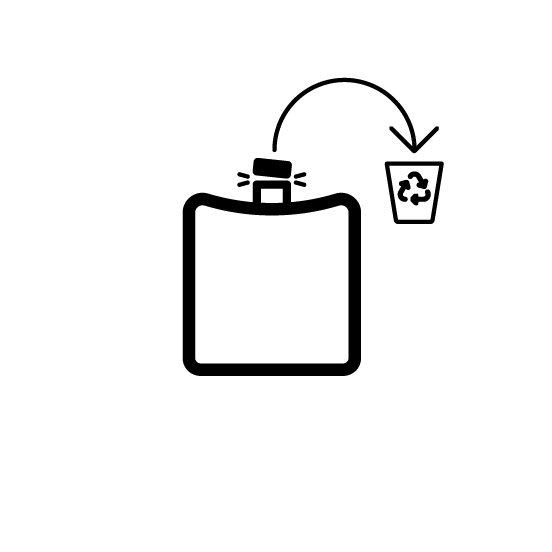 5. The ash can be easily broken off and all the debris should be removed from the jar when the wax cool down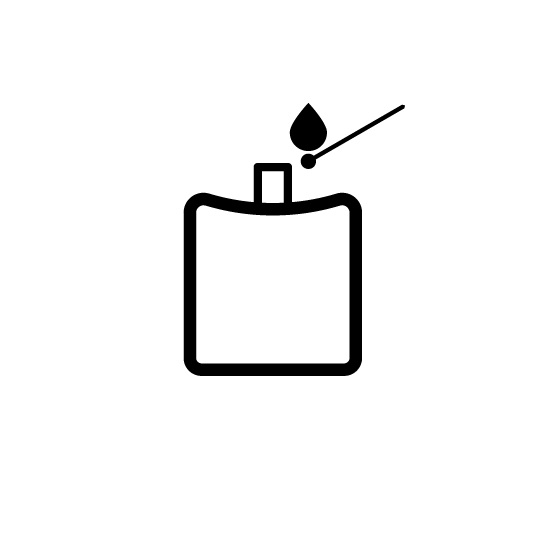 6. Then the flame will come right back to life
Enjoy the candle burning safely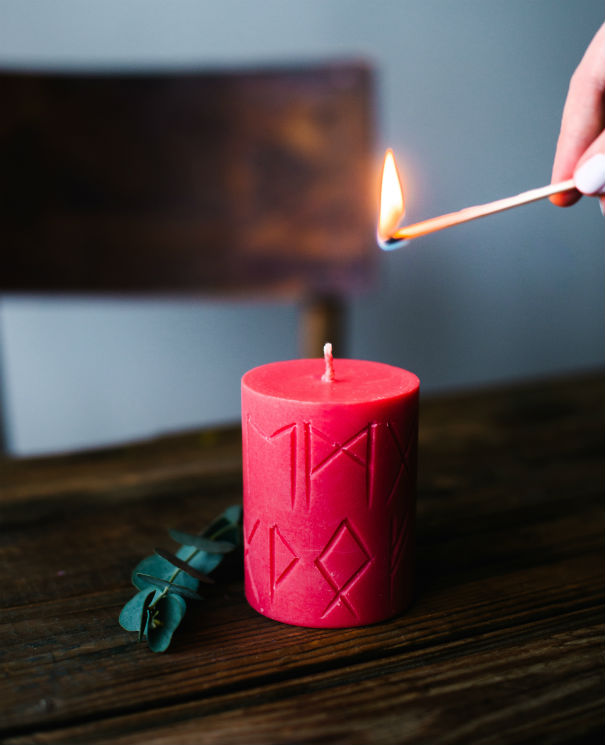 Enjoy the candle burning safely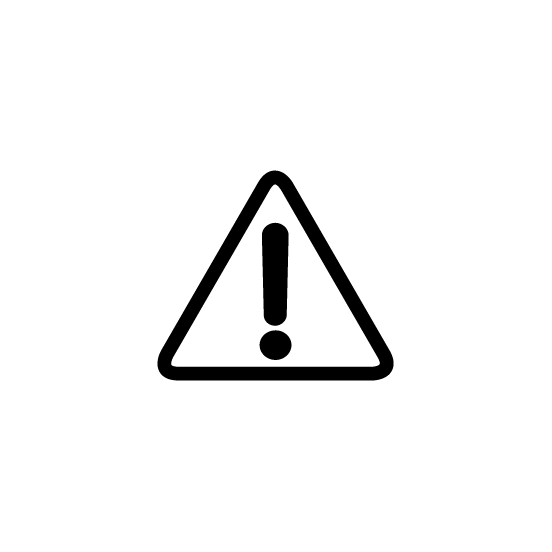 Ensure that all the packaging as well as any paper decorations and labels are removed from the candle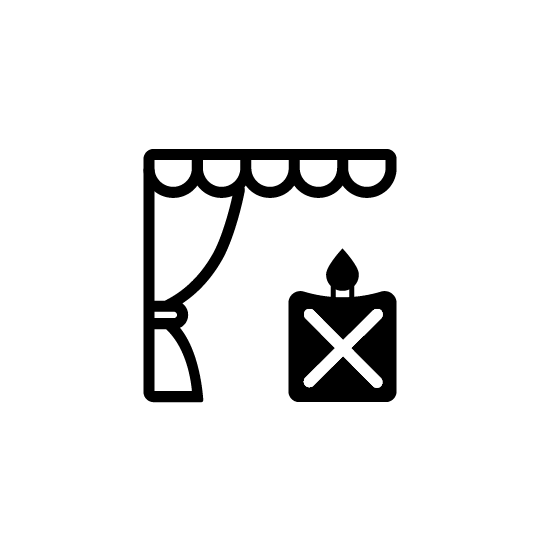 Ensure that the candle is far from flammable objects and materials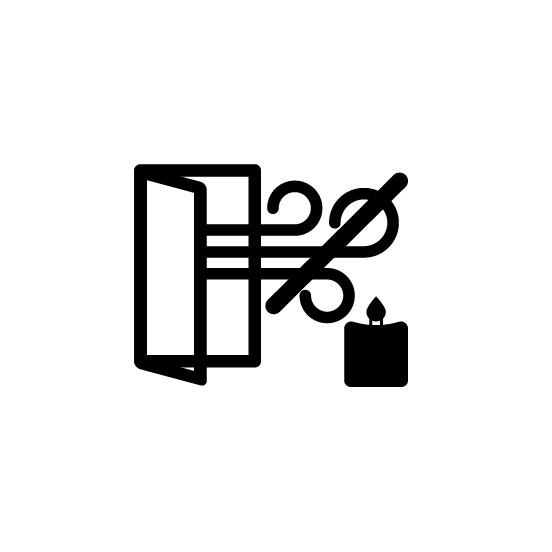 Do not burn the candle in drafty environments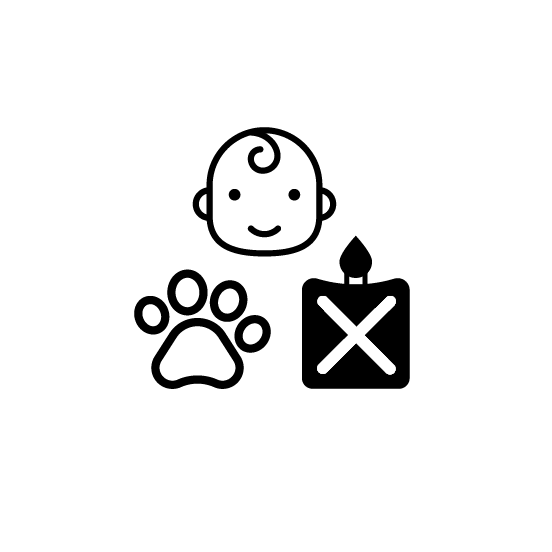 Keep burning candles out of reach of pets and children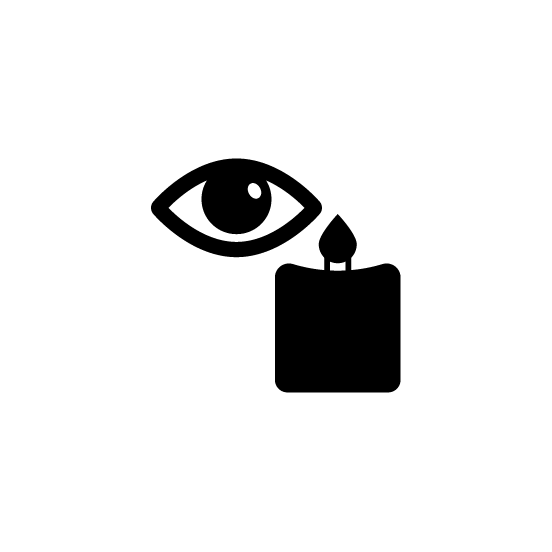 Never leave a burning candle unattended. Always extinguish it before leaving the room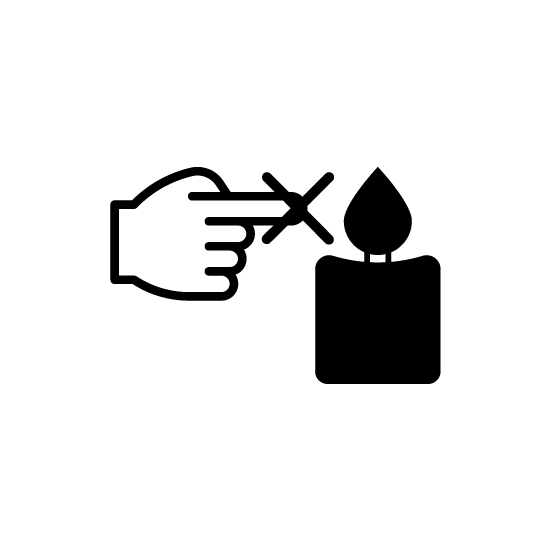 Do not touch a burning candle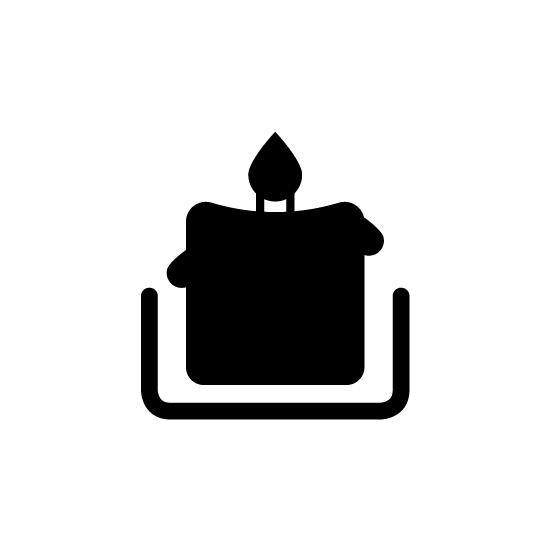 Rune candles is like old pillar candles, so there is no jar. Please put the candles into candle holder or small bowl as the melted wax may liquify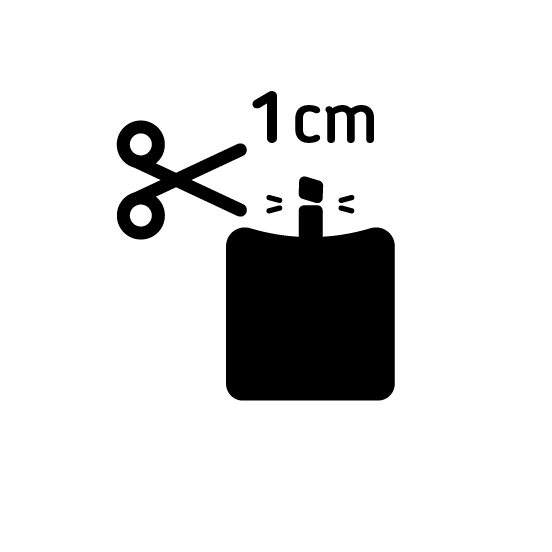 Trim wick to about 1 cm before lighting
The magic of home parfum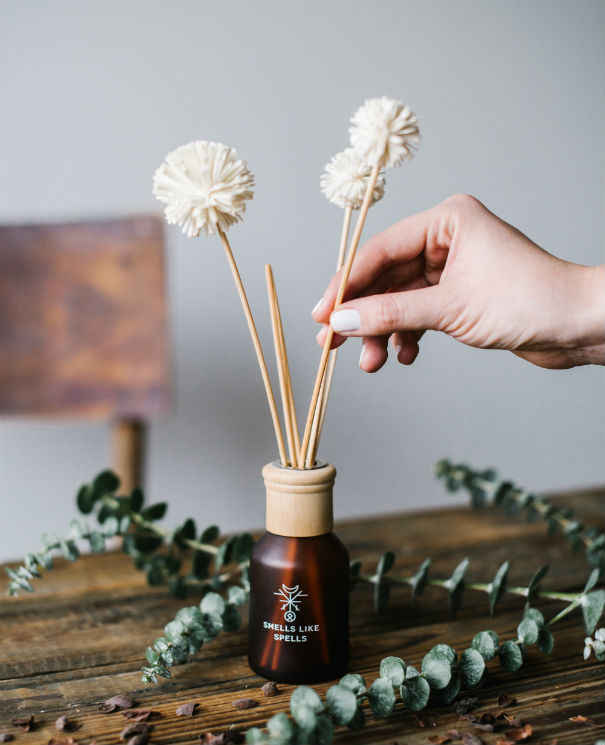 The magic of home parfum
Along with the home parfum, you will find rattan sticks with sola wood flowers in the box of home parfum. The parfum will go up the sticks as in the stems of flowers. These sola wood flowers will increase the surface that will spread the home parfum aroma at your home. The home parfum will evaporate for approximately 3-5 months. The spreading time of a home parfum can vary slightly, as it directly depends on room temperature, humidity, and other environmental changes. To feel the fresh fragrance again and again, be sure to flip the sticks regularly.
The art of incensing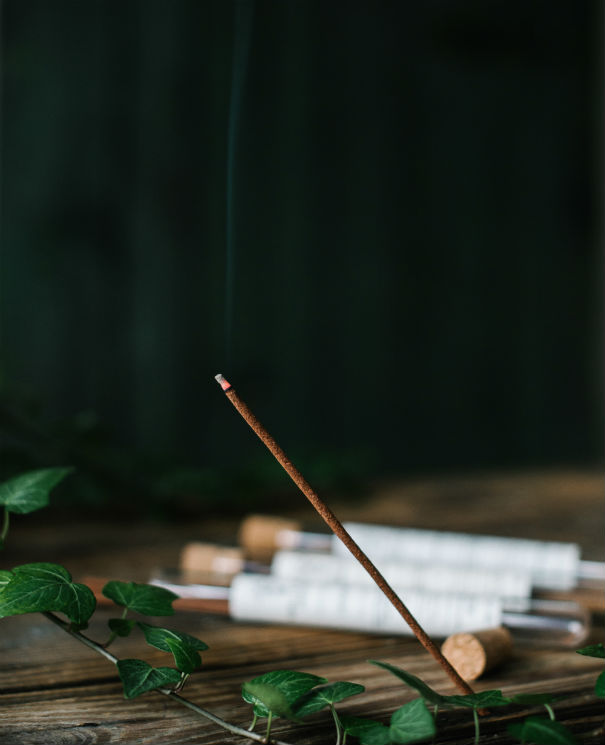 The art of incensing
Our incense has no wooden stick, so we recommend to fill a small jar with a non-combustible material (such as salt or sand) that you can put in the incense stick, and when it burns, you will easily clean your incense holder you made by yourself. Package contains 5 sticks. Each stick burns approx. 30 – 40 minutes. The burning duration might differ depending on temperature, humidity and changes in the atmosphere. For a medium room, we recommend that you burn one-third part of one stick.